On Tuesday, Hillary Clinton said she took "absolute personal responsibility" for her losing presidential campaign — but went on to blame FBI Director James Comey and cited the Russian interference conspiracy for helping Donald Trump secure the presidency.
Clinton specifically cited the letter from Comey late in the campaign which explained that agents were looking into possible new information related to Clinton's private computer server. She was ultimately never charged with a crime, and Comey cleared Clinton on the Sunday before the election.
She also mentioned WikiLeaks, a website which exposes corruption in the government.The website, which some analysts think  might be connected to Russia,  posted the hacked emails of Clinton Campaign Chairman John Podesta.
"I was on the way to winning until a combination of Jim Comey's letter on October 28 and Russian WikiLeaks raised doubts in the minds of people who were inclined to vote for me but were scared off," Clinton said at the Women for Women International Conference.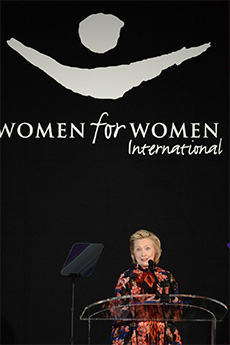 She added: "If the election were on October 27, I'd be your president."
Clinton went on to say that she is done chasing the presidency,  but that she wasn't getting out of politics entirely.
"I'm now back to being an activist citizen, and part of the resistance," she said.
Clinton said she was writing a book about her experience as the 2016 Democratic nominee.
"It is a painful process reliving the campaign," she said.
Clinton, the first female presidential candidate of a major party, said her election "would have been a really big deal."
"There were important messages that could have sent," Clinton said.
Taking a hit at Trump, Clinton said the president should worry less about the election "and my winning the popular vote."
Moderator Christiane Amanpour at one point asked Clinton if she was a victim of misogyny, to which she replied, "Yes I do think it played a role. And I think as we learn more and more about unprecedented foreign interference from a foreign leader who is not in my fan club."