The entire U.S. Senate has been called to the White House for a briefing on Wednesday regarding the North Korea situation. This meeting comes amid escalating tensions over the country's missile tests and threatening rhetoric.
On Monday, White House Press Secretary Sean Spicer confirmed the upcoming briefing which includes all 100 senators.
Secretary of State Rex Tillerson, Secretary of Defense Jim Mattis, Chairman of the Joint Chiefs of Staff Gen. Joseph Dunford and Director of National Intelligence Dan Coats plan to provide the update to lawmakers.
It is rare for the entire Senate to be invited to a briefing at the White House. Normally, the White House will send representatives to the Senate in order to deliver a briefing.
Spicer clarified that while the event will take place on the White House campus, it is technically a Senate briefing and Majority Leader Mitch McConnell, R-Ky., is the one who requested it.
The briefing was confirmed after President Trump earlier spoke to the leaders of both China and Japan.
Trump spoke by phone with Chinese President Xi Jinping and Japanese Prime Minister Shinzo Abe.
Xi told the President that China strongly opposed North Korea's nuclear weapons program and hoped "all parties will exercise restraint and avoid aggravating the situation," according to Chinese broadcaster CCTV. Trump hopes China could increase pressure on its isolated ally instead of using military options or trying to overthrow Kim Jong Un's regime.
Trump and Abe agreed to urge North Korea to refrain from provocative actions.
Meanwhile, U.S. commercial satellite images indicated increased activity around North Korea's nuclear test site, while Kim has said that the country's preparation for an ICBM launch is in its "final stage."
South Korea's Defense Ministry has said the North appears ready to conduct such "strategic provocations" at any time. South Korean Acting Prime Minister Hwang Kyo-ahn has told his military to strengthen its "immediate response posture" in case North Korea does something significant on the April 25 anniversary of its military. Often times, North Korea marks significant dates by displaying military capability.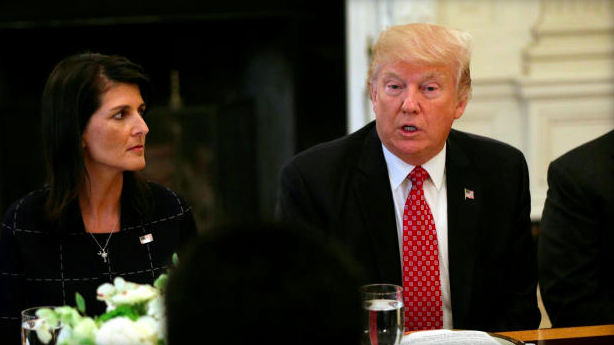 Trump also had lunch with ambassadors of countries on the U.N. Security Council on Monday. Ahead of the meeting, Trump called for "big reforms" at the U.N. and criticizing its handling of recent events in Syria and North Korea – but said it has "tremendous potential."
"You just don't see the United Nations, like, solving conflicts. I think that's going to start happening now," he said.