Susan Rice, former national security advisor under President Obama, has been identified as the top official that requested to unmask the names of Trump transition officials caught up in surveillance. This revelation first came from Mike Cernovich, causing many people on Twitter to be skeptical of its authenticity. A day later, this story has hit all major news networks.
According to Fox News, the unmasked names of these officials were sent to the National Security Council. After that, the names were received by then-Director of National Intelligence James Clapper and then-CIA Director John Brennan. Ben Rhodes, deputy to Susan Rice, also gained access to these names.
The names were part of incidental electronic surveillance of candidate and President-elect Trump and people close to him, including family members, for up to a year before he took office.
Names of Americans, specifically when they are incidentally collected, are to remain masked. This means that their names are removed reports and documents. , there are loopholes that can be used to unmask people, but Americans are supposed to be protected. In this case, President Trump was not.
White House Press Secretary Sean Spicer was asked about the revelations at Monday's briefing, but declined to comment specifically on what role Rice may have played or the motives behind the officials.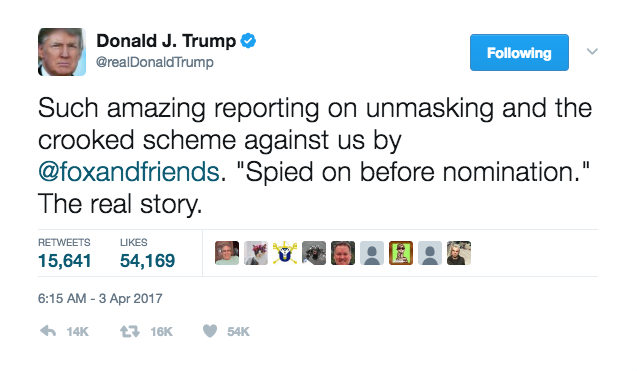 "I'm not going to comment on this any further until [congressional] committees have come to a conclusion," he said, while contrasting the media's alleged "lack" of interest in these revelations with the intense coverage of suspected Trump-Russia links.
Reports say that House Intelligence Committee Chairman Devin Nunes knew about unmasking and leaking back in January, long before the President's tweets about wiretapping.
Rice's requests to learn the identities of Trump officials mentioned in security reports highlights the skepticism the American people have regarding U.S. surveillance programs.
Rice also told ABC News in 2014 that Army Sgt. Bowe Bergdahl "served the United States with honor and distinction" and that he "wasn't simply a hostage; he was an American prisoner of war captured on the battlefield."
Bergdahl is currently facing court-martial on charges of desertion and misbehavior before the enemy for allegedly walking off his post in Afghanistan.
Although Rice herself has not spoken directly on the issue of unmasking, last month she made an appearance on "PBS NewsHour" about reports that Trump transition officials, including Trump himself, were swept up in incidental intelligence collection. During the interview, Rice said: "I know nothing about this," adding, "I was surprised to see reports from Chairman Nunes on that account today."
Mike Cernovich was told that Maggie Haberman, a political correspondent for the New York Times, has had this story for the past 3 days. She has been unwilling to report it in order to protect the reputation of Barack Obama.
More developments in this story are expected to surface this week.